Over the last ten years, the Apex Challenge has grown from a small local event in South Yorkshire, to one of the country's top adventure competitions for Explorers and the Scout Network. Here Event Director Matt Richards gives an honest look at the main things they have learnt over the last decade.
Speak directly to young people
At the Apex Challenge we have always directed our marketing and promotions directly to the competitors, not to leaders or commissioners. They can then ask their leaders/supporters about coming. This way the message doesn't get delayed or diluted through layers – and empowers the young people to arrange their own programmes supported by the leaders.
Look after the leaders 
Every one of the sixty-strong team who helps at the events works unbelievably hard to deliver the adventure. It's vital they enjoy it too. People like to be associated with successful things, and they like a freebie! So we have a policy of never charging adults at the Apex Challenge, and strive to make the weekend as fun as possible for everyone. If they enjoy it, they'll be back next year.
Actively search out feedback
There are lots of things we've got wrong, but have been able to change through feedback from the competitors. There are loads of ways to get feedback through Facebook polls, Twitter discussions and the new Youth Involvement projects, but by far the best way is just taking a few minutes to chat to young people during the events. Often it's really simple things we could be doing to make things even better.
Big committees don't work
We run the Apex Challenge as a core group of just three people, and it works brilliantly. Each of us are empowered to make decisions, and only refer to the core team for crucial things. We've heard of other events with massive teams that take months to make simple decisions – but at Apex we just delegate tasks out and trust our team of volunteers to deliver them.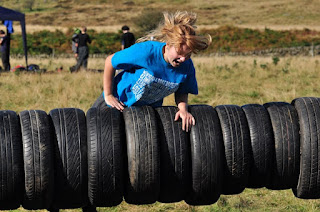 Success breeds success
You can't force people to attend an event if it's not good enough. We had a few years desperately trying to fill the events, but once we had made them good enough that problem disappeared. The last three events sold out in less than an hour. Build it well, and they will come!
Events need to support groups not the other way around
We've heard about the organisers of other camps and events complaining that they're not being supported by groups, and can't get people to attend. That's the wrong way of looking it at. If there is demand for the event, it's of high quality and delivers something the groups want, they will come.
Some people just like to grumble
While the vast majority of people in our organisation are committed, fun, friendly and positive, there are a few who just seem to get a kick out of being negative. We've learnt just to smile, tolerate their oddities and concentrate on working with everyone else who's up for delivering the adventure.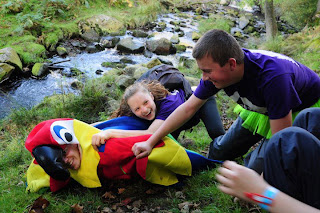 The little things matter
People notice attention to detail. It may seem over the top, but every picture in the marquee will be at exactly the same height, all the booklets and results use the same fonts and colour pallet, and we have several full rehearsals for each of our presentations. We even make sure we use the right colour of cable tie for each banner. Obsessive? Maybe, but it makes a difference.
Don't get complacent
Our least successful events have been when we've repeated activities or returned to the same place in consecutive years. While it may be easier for the organisers, the lack of originality is instantly noticeable and the competitors are very aware. If you keep challenging yourself with new ideas, places and activities, it keeps the events feeling fresh and vibrant.
We have unlimited skills at our disposal
We're becoming increasingly amazed at the skills and goodwill that can be tapped into in Scouting. The volunteers and supporters of our events include experts in adventurous activities, mass catering, electrical engineering, lighting design, broadcasting, construction and even weather forecasting. People like to be asked to use their key skills, and if they get something out of it, will be sure to return next time. 
The Apex Challenge is a national adventure competition for Explorers and the Scout Network. Each event attracts more than 400 competitors from right across the UK, who spend the weekend completing tough activities such as climbing, biking, canoeing and archery while racing against all the other teams on the hunt for Apex points. You can find out much more about the events at www.apexchallenge.co.uk and facebook.com/apexchallenge