Every year the Apex Challenge team produces an annual report which looks back at the previous 12 months, reviewing our most recent event and detailing how all the money from your entry fees was spent.
It will come as no surprise at all that our most recent annual report, for 2020, is a fairly uninteresting read. Our event was cancelled due to the pandemic so the annual report is a brief and functional document which is an update on our finances. Feel free to read it, but there's not a lot to interest you.
If you want to see more of how the Apex Challenge works in a typical year, take a flick through the 2019 annual report which looks back at a memorable event on the Ampleforth Estate in North Yorkshire. Hundreds of Scouts had a fantastic weekend of adventure. And there was mud. Lots and lots of mud! We had new activities, a great new band entertaining us on the Saturday night and everyone coming together, in spite of the weather, to enjoy three days together.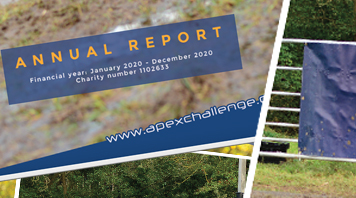 Our latest annual report is a brief financial summary with few other details after the pandemic meant our event was cancelled.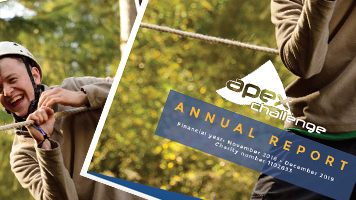 Our 2019 annual makes a much better read - there are actually details of a great weekend of adventure to look back on!