Staging an event as big as the Apex Challenge is a big task. There are locations to visit, activities to plan and volunteers to coordinate. Each event relies on the support of well over 100 people but at the event's core are three Scout leaders who lead the team.
Matt, David and James lead the Scout Active Support Unit which stages the Apex Challenge. They are each trustees of the Apex Challenge charity which is also part of the Scout Association and follows its rules and guidelines.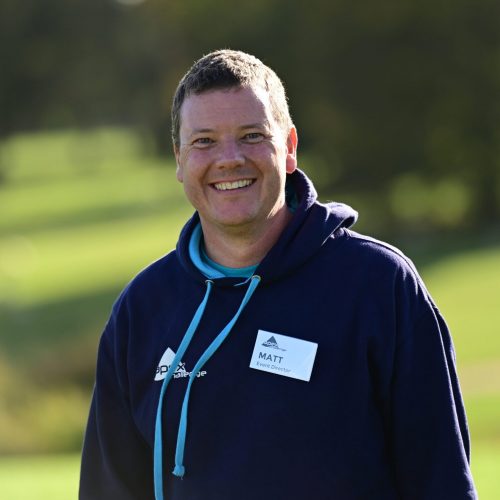 Matt is the manager of the Apex Challenge Scout Active Support unit and holds several outdoor instruction qualifications as well as being a full member of the Mountain Leader Training Association. He enjoys walking and climbing and works as a TV producer in Yorkshire.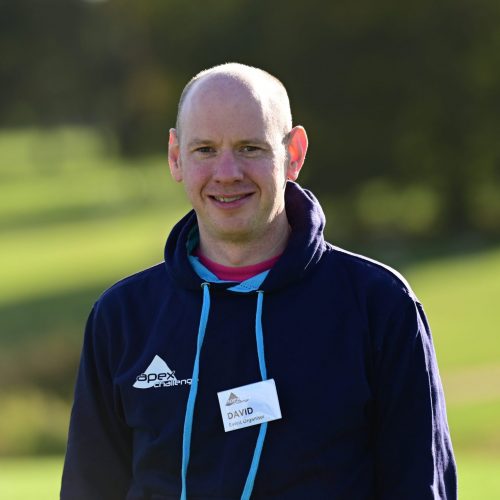 Dave is the team's technical expert. It's his job to write the software that adds up all the scores, put them on the screens at the right time and play the matching sounds. Like Matt, he was a Scout while growing up in Sheffield. These days he works as a software engineer in Leeds.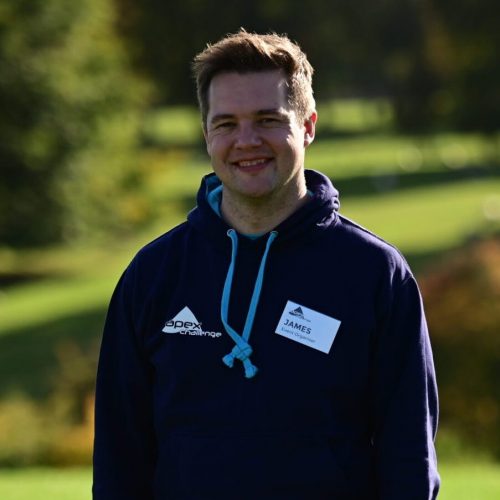 James looks after our website and designs all the graphics you see online and at the event as well as any printed documents your team is given. He had never been involved in Scouting before Apex and now wishes he had joined as a child. He works as a TV news presenter and reporter.
The rest of the Apex Team
Matt, Dave and James might be involved in organising the Apex Challenge all year, but when it comes to the event itself there are far more people to thank for making the weekend possible.
There's a large technical team who rig a large lighting and sound system in our event centre. There's an even larger team running the Apex Cafe to make sure we all have enough to eat and drink. There are all the people who plan and run the many activities that make the Apex Challenge so unique. And then there are the photographers, the first aid team, the communications team and all the other people doing all the other behind-the-scenes jobs that all need to happen.
A massive thank you to everyone who gives up their team to make the Apex Challenge possible:
Ben Abell, Lloyd Acornley, Aaron Adams, Scott Adgar, Joanne Alflat, Alex Atkin, Fiona Atkin, Matt Atkinson, Sheenagh Austin, Ashley Baker, Debbie Baker, Matthew Barnes, Rob Batley, Martin Bennett, Phil Bennett, Sam Bennett, Neil Benson, Andrew Billington, Jo Blythe, Ian Bradshaw, Sean Brady, Michelle Bragg, Ian Brannan, Rachel Breeden, Abby Brown, Graham Brown, James Brown, Ruth Bullivant-Layton, Kevin Bumby, Darren Burgess, Stewart Butler, Jake Carpenter, Tony Casson, Charles Cave, Sarah Cave, Julia Charlesworth, Joe Christian, James Clarke, Brad Cole, Tom Conroy, Ian Cook, David Cooper, Harry Curtis, Jake D'Souza Kelly, Alex Detalia Riley, James Dobson, James Downs, Rachel Edwards, Alex Ellis, Sam Farnsworth, Mike Fawcett, Rosie Flint, Paul Fox, Richard Galliford, James Garrett, Richard Garrett, Fran Glew, James Godfrey, Rob Godfrey, Tim Hague, Tom Hague, Steve Hall, Elinor Hamilton, Tom Hamilton, Sarah Harris, Ricky Harrison, Charlotte Harrison, Simon Harrison, Guy Harrison, Tom Harrison, Graham Harrop, Sarah Henell, Irene Hewitt, Ian Hill, Lucy Hobbs, Richard Hollingworth, Gaz Hopkins, Janet Horner, Alex Hummel, Josh Hunsley, Hannah Hurt, David Ingledew, Adam Jacklin, Andy Jackson, Barrie Jenkinson, Marcus Jenkinson, Karl Jones, John Kessel, Sarah Kessel, George King, Alison Lamb, Dale Lawrence, Sue Lawrence, Danny Levick, Kristian Lucas, Maria Mahon, Ross Masters, Daniel Maude, Neil McKay, Andrew Melleney, Jack Mellors, Adam Mitchell, Jon Mitchell, Derek Mollan, Andy Moore, Lynn Moore, Dave Mott, David Needham, Charlie Newton, Phillip Norton, Andy Pagett, Joanna Parker, Gordon Parkinson, John Parkinson, Marion Parkinson, Simon Peers, Andrew Phipps, Becca Phipps, Nicky Phipps, Thomas Phipps, David Platts, Jeanette Plumb, Andrew Plummer, Lee Plummer, Lynne Plummer, Sara Plummer, Claire Probert, James Purdy, John Putland, Joanne Rayner, Hayley Richardson, Tony Richardson, Nigel Redfern, Brian Robinson, Danny Rogers, Bev Rothery, Mark Rothery, Dave Scott, Amy Sears, Mike Sharp, Dom Sharpe, Tim Shiles, Lewis Simpson, John Smallwood, Tom Smith, Mike Snaith, Chris Spencer, Jonathan Spencer, Mike Squires, Ben Stevenson, Matt Stevenson, Sian Stockham, Jason Stubbs, Molly Stubbs, Ian Thompson, David Thorp, Daniel Tinker, Phil Todd, Haley Toseland, David Towner, James Tucker, Sam Turnbull, Julia Voyse, David Ward, Matt Ward, Tom Ward, Edward Watchorn, Will Wells, Jim Wild, Susan Wragg.