April 2011
Sherwood Pines Forest Park
Nottinghamshire

For the second year running the Apex Overnight Challenge took place on the warmest weekend of the year so far. Bright sunshine at warm temperatures greeted another record number of teams as they arrived at Sherwood Pines Forest Park in Nottinghamshire.
With the event selling out in just 36 hours we had 87 groups of Explorer and Network Scouts tackling our most impressive series of activity bases yet including mountain biking, archery, rifle shooting and a thrilling high ropes adventure course. There was fierce competition for honour of becoming event champions!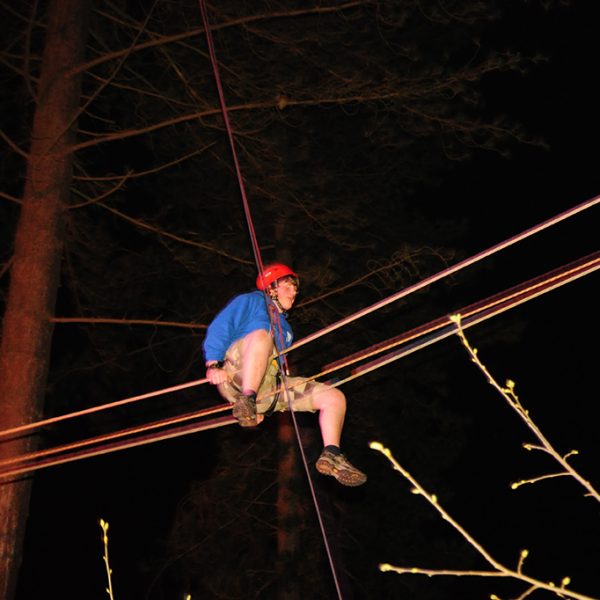 Well what a weekend! It couldn't have been hotter for this year's Apex Overnight Challenge as more teams than ever before descended on Sherwood Pines Forest Park for a night of action-packed adventure in the woods.
As teams from across the UK checked in with the sun shining, already plans were being hatched. Explorers were desperate to avoid the cunning Apex Chasers, Network teams were desperately trying to work out the best sequence of bases to secure victory.
Then after more than 400 people had packed into the event brieifng, the event began. From archery in the dark to water catapults and a massive inflatable assault course, there were 14 tough activities to test teams to the limit.
Six hours passed as everyone was out scrambling for those sought-after Apex points. But also out were the Apex Chasers – keen to track teams down and take points away.
As the 88 teams started to arrive back at the event centre marquee, it was clear there had been some impressive performances. Instantly the maps appeared, showing where teams had been – and who had been tracked down by those eager chasers.
Then as the sun rose on Sunday morning, it was time to find out which teams were leaving with the big prizes, and the coveted Apex trophies.
It had been yet another action-packed weekend in the forest – See you at the next event!
Here's a look at the main activity bases:
A: DIRTY BOMBS
It took great teamwork and skill to fire the water balloons at the target. But could you find the right trajectory with your catapult to knock over the tower of cans?
B: IN A SPIN
Your team had to get the forces working in your favour as you took on the might of this spinning carousel. Did you manage to get enough power to swing right out to the target?
C: ON THE ROPES
This adventure course felt a lot more exposed than usual when you were plunged into darkness. Teamwork was critical to succeed.
D: ON TARGET
Archery can be hard enough in the daylight, but what about when plunged into darkness? Your team needed an keen eye and a steady hand to hit the target.
E: MEGA ASSAULT
It was our longest ever Apex inflatable assault course but things got much more tricky when your team had to carry one of your members through it.
F: POWERBOATS
It was time to take to the water in the exclusive Apex speedboats at this pond-side base. But could you control your vessle through the course to gain access to that crucial punch?
G: HIDE 'N' SEEK
A bizarre challenge in the forest. When your team were faced with an empty activity, the challenge was to find the organisers hidden in the undergrowth. But things weren't quite as they seemed.
H: GO APE(X)
It's like the famous Go Ape courses, but with an Apex twist. High in the trees, it took real nerve and skill to cross the high ropes course to release the punch.
J: THE CLIMB
With the crucial control hanging high above you, the only way to get to it was up the wobbly metal ladder. With it twisting with every step, did you have the nerve to reach the top?
K: BOUNCY COCONUTS
It was a human coconut shy deep in the forest. But when your targets are bouncing on a bouncy castle, the challenge takes on a whole new dimension.
L: GIANT JENGA
This tested your team's construction skills. Could you work out how to build the tower, when some of your teammates are blindfolded?
M: BLOOD, SWEAT & GEARS
Mountain biking – Apex style! This was a tough graded course in the woods with the added extreme hazard of almost zero visibility. It needed a strong sense of balance to stay on course.
N: GO BALLISTIC
It was time to take on the role of a firearms officer, as you shot at the targets with your pistol. Calm nerves and a steady hand were critical here to make your mark.
P: DOWN THE DRAIN
It was like a giant marble run but on a massive scale. Could your team work out how to get the balls where they needed to be down the endless series of gutters?