April 2010
Sherwood Pines Forest Park
Nottinghamshire

It was the warmest weekend of the year so far as teams arrived in glorious sunshine to take part in the Spring 2010 Apex Overnight Challenge. Holding the event during the last weekend of the Easter holidays attracted a record number of teams.
With an extra five teams joining us at Sherwood Pines Forest Park we extended the now familiar playing area to take in new parts of the forest and made sure all our 16 activity bases were some of the most challenging ever.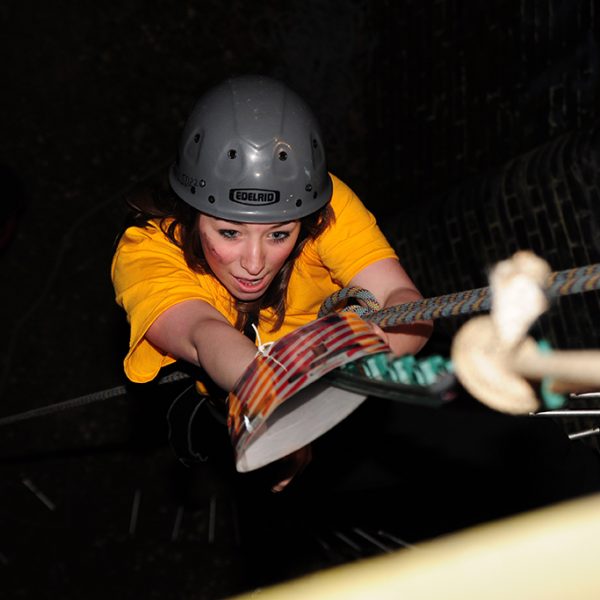 So another event is over and what a weekend it was. We had more teams than ever before, all taking part in a spectacular competition at Sherwood Pines Forest Park.
Teams arrived on what turned out to be the hottest day of the year so far – putting up their tents in the sunshine as they prepared for the event. Routes were being planned and strategies compiled as more than 300 Explorers and Network members prepared for this unique competition.
Then at 8 O'clock they were off. Six hours of gathering points in the darkness. Challenges included our longest ever inflatable assault course, moonlit mountain biking, dramatic bridge climbs and a return of the infamous Delve of Doom.
By the time teams started returning tiredness was kicking in but still teams showed great skills, determination and teamwork as they tried to get those crucial last-minute points.
Back in the marquee teams saw their routes instantly appear on the big screen as they settled in to see how their performace compared to all the others. Teams who were challenging each other, now meeting up and sharing stories about their night in the forest.
Then as morning broke, it was time to find out how everyone had done. The winners left with the big prizes – but everyone was heading home from the forest with great memories from the Apex Overnight Challenge. Many said they were already planning their strategies for October!
Here's a look at the main activity bases we had on offer throughout the night…
A: BAND HERO
Would your team make it into Glee Club? Just how are your musical skills? This base needed skills on drums, guitar and singing in order for you to make the grade.
B: ON THE ROPES
This adventure case felt a lot more exposed than usual when you were plunged into darkness. Teamwork was critical to succeed.
C: DELVE OF DOOM
Approaching this base you could hear the screams for miles! Did you have the nerve to uncover the mysterious and grotesque objects from the buckets of doom?
D: TANGLED
It was a tangled mess your team had to get out of. Could you successfully undo the knot to get to the crucial punch?
E: MEGA ASSAULT
It was our longest ever Apex inflatable assault course but things got much more tricky when your team had to stay attached while heading through it. Described by one Explorer as "A right good giggle!"
F: ATTACHED!
It was a case of following the rope through the trees, under branches and around the forest obstacles to find the punch hidden deep in the undergrowth.
G: TERROR ISLAND
With water everywhere this was your greatest chance of getting a soaking. This base tested your team's plumbing skills to move the water fast enough to gain access to the punch on Terror Island.
H: ROLLERCOASTER
A mini golf ball rollercoaster which your team had to control. It took some sense and logic though to make sure your balls didn't drop the wrong way!
J: THE CLIMB
With the crucial control hanging high above you, the only way to get to it was up the wobbly metal ladder. With it twisting with every step, did you have the nerve to reach the top?
K: BLOOD, SWEAT & GEARS
Mountain biking – Apex style! This was a tough graded course in the woods with the added extreme hazard of almost zero visibility. It needed a strong sense of balance to stay on course.
L: TOTALLY GUTTERED
Another base to test your teamworking skills. Could you successfully organise yourselves to get the water balloons rolling the right way down your guttering course.
M: GIANT LOGIC
Waking up your brain cells in the middle of the woods! Could you work out the puzzles before the time ran out?
N: QUACK CASTLE
Where else would you get a bouncy castle challenge complete with rubber ducks?! It was a case of controling the bounce and looking after the little creatures to gain your 50 points.
P: BLACK BOX
A helicopter has crashed under that bridge and only you can help. Did your team manage to recover the crucial black box despite all the hazards.
Q: STRINGS ATTACHED
A course through the woods, but where would it lead? Your team needed very close cooperation at this one to get to the 50 point reward.
R: FLYING SAUCERS
These glowing disks in the sky probably got Nottinghamshire's secret service baffled. In this X-files-style base, you had to take control of the flying saucers to succeed.