4-6 October 2013
Strensall Training Camp
North Yorkshire

With a military theme throughout the weekend almost 100 teams were recruited into Apex Special Ops. Their mission was to hold back enemy forces in North Yorkshire and prevent an invasion.
The mission started with the Enemy Beacons challenge. This was followed with a six hour mission on Saturday where teams had to secure as many locations as possible. On Sunday teams had a series of landmines to deactivate.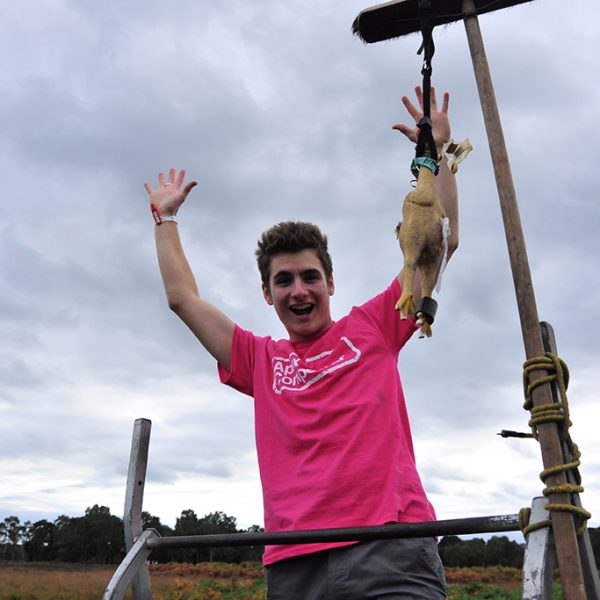 From Friday night to Sunday afternoon our video crew captured every moment of this three day military mission. The full 17 minute film shows what challenges teams had to overcome during the three days.
Filmed and produced by Phillip Norton, the video includes the thrill of the Enemy Beacons challenge followed by a full day of activities across a wide playing area that is normally used for army exercises and all the action from Sunday's legendary Apex assault course.
The enemy is approaching. The area is in lockdown. We are under attack. This is Apex Special Ops.
This year's event had a very different feel to previous years as the event became Apex Special Ops, a weekend long campaign to take down the enemy and reclaim lost ground. Hundreds of young people from across the UK descended on the Strensall Common military training facility to take part in this weekend-long test of endurance; fighting the enemy while also competing against everyone else.
From the moment the teams arrived it was becoming clear this was no ordinary adventure. As they picked up their intelligence files, the dramatic searchlights crossed the field. Distant gunfire could be heard as teams gathered for their first briefing.
The Apex army was stunned into silence as the breaking news reports showed the scale of the situation. Strensall was being quickly taken over by enemy forces. It was clear our teams had to act quickly. No sooner had the briefing finished, the first stage of their mission began. They had exactly 60 minutes to find and stun the enemy beacons, stopping vital transmissions to the other side.
It was clear though this wasn't going to be easy, with the enemy patrols still out there trying to capture our teams before they could download their data. But this first mission was deemed a success – the beacons had been stunned for now. It meant the Apex Army could get some crucial rest before the main task in the morning.
Saturday dawned bright and clear as the Apex recruits awoke contemplating the day ahead. They knew the enemy had advanced and this was the day to start taking it back. So minute after minute, teams left base camp, heading out into the wilderness with six hours to reclaim as many locations as possible. At some that was a simple job – one download and it was done, but at a dozen other sites there were tough challenges to overcome. Teams had to cross high ropes courses, take on demanding team tasks or prove themselves as archery experts in order to succeed. And throughout it all the enemy were still there, tracking teams down and regaining the territory they so passionately thought was theirs.
But again the Apex army achieved great things. So much so Saturday night brought a time to relax. With live music, dancing and unlimited popcorn, there was a real sense of achievement and victory. But this battle was far from over.
Sunday brought news of a dangerous legacy from this weekend of war. Apex intelligence officers had heard that 30 land mines had been placed in the area and it was down to our teams to find and disarm them. Some of the locations were known but others were still to be found. Only cryptic deciphered clues could lead them to the right spots. There was even more danger too. Overnight the enemy had built a heavily guarded fort – one guarded by a relentless series of obstacles. Our teams each had their time to storm the fort, and after four hours of onslaught the enemy was finally defeated.
Our battle-weary warriors could then return to base camp to debrief their efforts. It had been a weekend like no other, but the Apex army had triumphed. Some teams ended up on top, some came further down the rankings, but all had achieved amazing things, and are even stronger now for whatever next year may bring.
Here's a look at the major locations which needed to be taken back from the enemy on Saturday:
A: AIRFORCE ONE
This was a challenge laid on by the RAF themselves. Only those with the best brains, observation skills and teamwork would succeed.
B: CHICKEN RUN
Rescuing Bruce the chicken from the end of the tough assault course proved harder than it looked when the extreme weather of wind, rain and snow stopped teams in their tracks.
C: ON THE ROPES
It took great teamwork and a sense of balance to walk your team along the wobbly wire and rope course. Falling off could land you in a landmine, and a very messy end.
D: FLAG PIPES
A chance to signal your intent with this tough but quick activity in the centre of the moor. If communication broke down, so would your chances of success.
E: KEEPING A LOG
Tougher than Tough Mudder, this challenging event involved carrying a heavy log through a relentless series of obstacles. Loads of mud, and loads of fun too.
F: AIM AND FIRE
Teams used a catapult to aim and destroy a series of bombs planted around the perimeter of the location to stop the scoring box being destroyed. The bombs went bang and the sonar went bleep bleep.
G: GATEKEEPERS
The most remote challenge, and a tough one at that. With slacklining, team puzzles and a bit of randomness thrown in, this needed a steady head to succeed,
H: ISLAND ATTACK
Possibly the muddiest and wettest event of the day. The location to be secured was out on an island in a boggy lake. But could your team work out a way of getting there and staying dry at the same time? Probably not!
J: ON TARGET
One for those with a keen eye and a steady hand. This was a tough archery challenge. Did your team manage to pop enough balloons to secure the spot from the enemy.
K: BLETCHLEY
A tough code-cracking challenge at an enemy bunker. Could you decipher the cryptic code from the enemy forces?
L: BARROW BOY
Another wet challenge but with this one the dryness was in your own hands. Could you stay steady enough to avoid tipping your own headful of water down yourself?
M: TAKE SHELTER
A flashback to the days of the Crystal Maze, this bizarre indoor challenge meant your teammate had to forage in a balloon-filled room while the giant fans whirred, desperately searching for the key to unlock this crucial location.


Using real-time data from the electronic tags carried by each team, this video shows the 'as the crow flies' route taken by each team.
Each dot represents one team. The speed of movement is the average time taken by a team between each pair of locations.