October 2012
Burbage and Longshaw
Derbyshire

To celebrate the tenth anniversary of the Apex Challenge we returned to where the event began back in 2002. Over three days more than 400 people joined us for an adventure packed weekend in the Burbage Valley and the Longshaw Estate in the Peak District.
With the return of the Apex Intense getting the event going on Friday night we had a spectacular range of activities for Saturday's main event and then the brand new Head Hunters challenge for teams to tackle on Sunday.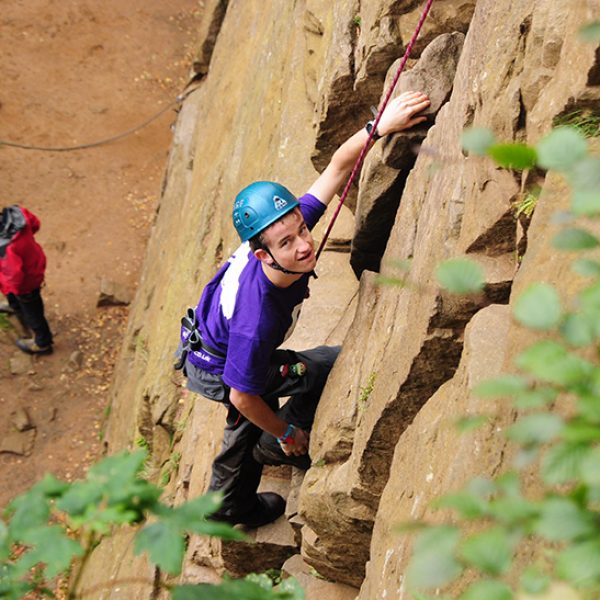 Well what a weekend! We were determined to celebrate the Apex Challenge's 10th birthday in style, and what better way to do it than with an action packed weekend of non-stop adventure.
Exactly ten years ago, just a few hundred metres from where this weekend's event has taken place, the Apex Challenge was born. 26 teams joined us for that first event, which was to set the foundations for the event to grow and grow.
Now, in 2012, we were able to welcome 100 teams from right across the UK, and it was great to be able to celebrate those ten years by returning to where it all began.
There was a real sense of anticipation and excitement on Friday as the camping field began to fill with Explorers and Network members. Everyone was keen to find the driest spots in the field, before registering their arrival at event centre. As the map booklets were given out, plans were already being devised as everyone eagerly awaited the first briefing.
With fireworks and thumping music the event was underway. The first challenge started straight away, a night sprint event where points had to be gained, but the chasers needed to be avoided in order to succeed. Straight away teams were bounding over the inflatable assault course as they started their quest for points. But elsewhere the highly trained chasers were pouncing on teams to relieve them of their hard-earned points.
By the time the first game finished, there were plenty of tired faces, but the event had only just begun.
As Saturday dawned, the rain of the night faded away and the main event grew closer. After a legendary Apex breakfast, the first teams were being called up to start their seven-hour challenge. With 15 activity bases, and 30 control points to visit, this was going to be an intense day of adventure.
Again the teams were hurtling themselves across the inflatable assault course as their long day of challenges got underway. Then they were off, tracking down the control points, and taking on the challenges.
The core events of rock climbing, abseiling and mountain biking tested teams to the max. Then there were the more bizarre games like rescuing rubber chickens, catapulting severed hands, and flinging yourself down a giant water slide. But wherever the points were being gained, it was all happening because of great teamwork and determination.
The seven hours soon passed, and the 400 adventurers returned to the marquee with their final challenge of crossing the inflatable assault course in reverse in order to download their score.
Then it was time for tea – a chance to unwind and share the stories of the day with all the other teams, before Saturday's briefing brought everyone back together. This gave a chance for teams to find out their score so far and it became obvious which teams were leading the field, but with a new award for the most improved team up for grabs, it was all to play for on Sunday.
Before that, it was time to party. More than 500 people packed into the marquee for Apex Challenge's 10th birthday celebrations. Our live act performed to huge cheers, while the Apex milkshake bar was churning out the shakes at incredible speed. The party hats, cake and balloons all added to the festivities as the party continued into the night.
As teams started to emerge from their tents on Sunday morning, it was clear the exertions of the weekend were starting to take their toll. But there was no time for resting as our brand new game, Head Hunters, was about to begin.
With a mass start, all 100 teams were off into the Longshaw Estate, now on the hunt for natives in four distinct tribes. Some were heading straight to Terror Mountain to find the elusive mountaineers, while others were disappearing deep into the Forbidden Forest to find the camouflaged natives there.
Teams were also on the lookout for Paddy Parrot, a giant bird worth a massive 60 points, and many heads were turning in the valley as Paddy flapped his way between the tribes.
But Sunday wasn't just about hunting – there was, of course, the legendary Apex Challenge assault course to take on. This was our longest ever obstacle challenge, where some of the country's toughest soldiers were on hand to guide teams through the course. It was a spectacular finale to a spectacular weekend of adventure.
As teams returned to their tents, all were still buzzing from the Apex experience, and soon it was time to see how all that translated into points and prizes. The event briefing was a chance to see how everyone had done. Those at the top were clearly thrilled their hard work had paid off, but it was clear all were happy just to have completed such a gruelling weekend.
So ten years after that first event, it is clear to see how the Apex Challenge has grown. We're immensely proud of what our team has achieved, and are thrilled to see how popular the events have become. Thanks for being part of the Apex adventure. We can't wait to see you next year!
Here's a look at the activity bases from Saturday:
A: SLIP 'N' SLIDE
A messy and entertaining slide down the hillside where it was almost impossible to stay dry.
B: GET DOWN
One of the longest ever Apex Challenge abseils down the sheer face of a dramatic Peak District Quarry.
C: TUNNEL VISION
Another wet one where teams had to crack cunning codes while contending with a torrent of water in the darkness.
D: RANDOM FLING
The return of one of the bizarre Apex classics where the high-powered catapults were put back into action.
E: BOULDER DASH
A high-energy weaselling and bouldering course on this dramatic outcrop.
F: AIRFORCE ONE
The RAF's challenge involved teamwork, strategy and communication – all the attributes that are key to a career in the skies.
G: TOP GEAR
A chance to put your driving skills to the test in this brand new racing game.
H: VENICE 5 TRAP
Balance and teamwork were critical as teams took to the water in their gondolas to escape the trap laying in wait.
J: THE ASCENT
A chance to climb some of Derbyshire's classic routes in this high quarry. But could teams overcome the ultimate crux moves?
K: ON TARGET
A steady hand was the key to success at this balloon-popping archery challenge.
L: IT'S ALL MINE
Those who ventured to these remote mine workings were rewarded with 50 free points!
M: BRUCIE THE CHICKEN
Only at the Apex Challenge could chicken flinging become such an addictive sport!
N: ROCKET MAN
Deep in this wooded ravine, the high-powered water rockets were being fired straight to their targets.
P: BLOOD, SWEAT AND GEARS
This was no ordinary mountain bike challenge. With jumps, ramps and many hidden surprises it needed real skill on two wheels.
Q: THE PINNACLE
A unique challenge at the 'Old Man of Hoy of Derbyshire'. This impressive rock formation was home to an equally impressive activity of skill, cunning and teamwork.