18 September 2004
Burbage Valley
Peak District

The Apex Challenge broke more records at this event. Held in the Peak District's Burbage Valley just outside Sheffield, there were more than 14 activity bases to complete.
More than fifty teams joined us for our biggest event to date. It was a record breaker in another way as well because there were more main activity bases for teams to complete as well.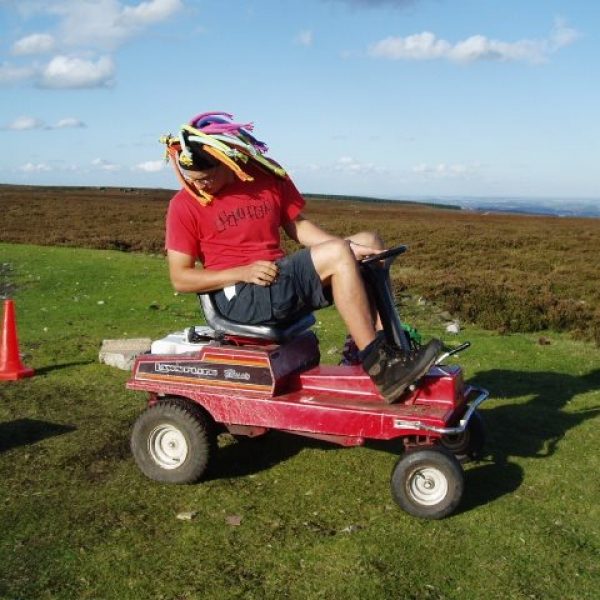 The Autumn 2004 Event was another record breaking competition. More teams than ever before turned up to enjoy the day-long event in the Peak District just West of Sheffield.
It was also record breaking because there were more activity bases than ever before as well. Usually there've just been a dozen for you to try, but we decided to try to stretch you by giving you fourteen to try to get round during the whole day. We hope everyone enjoyed taking part as much as we enjoyed organising it.
We're delighted to see so many teams returning each event, as well as so many new faces joining them. We hope the event was a mixture of all the best bits of Scouting in 2004. That was always the aim; to provide an event where we can all try as many different activities as possible, while having that healthy element of competition against our neighbouring groups and units.
More than fifty people helped and I'm sure you'll join me in thanking them for their time and effort. From the base organisers to the website designers, communications team and bbq chefs, everyone was putting in 100% so you enjoyed your day.
Below's a breakdown of all the main activity bases that were on offer…
A – FOOTPATH FRENZY
No activity base.
B – FOREST OF DOOM
The base lies deep in the forest but getting to the punch is far from easy. Can your team overcome all the obstacles?
C – PUMP IT UP
It's your chance to be a civil engineer. Create a system to move the water and release the punch, but watch for the false leads. Things aren't always as they seem.
D – TRACKSIDE TRIAL
It's the base provided by our friends in the emergency services. Anything is possible at this spectacular location.
E – BRIDGE OF DOOM
Hold on tight as each member of your team must walk the bridge of doom. Don't look down!
F – UP AND AWAY
The only way to the punch, nestling high in the crag above you, is to get onto the rock and climb. So grab your harness and helmet and start making those moves.
G – TIGHT SQUEEZE
Grovel, squeeze, clamber and swear your way through this frustrating but rewarding test of team skill. Don't blame us if you get more than a little dirty!
H – BLOOD, SWEAT AND GEARS
It's the ultimate test of your mountain biking skills. The key is team spirit as your four members take to the challenging course.
J – BRAINACHE
Your body may be resting, but this puzzle will certainly be exercising your brain. With each member of the team holding crucial information and skills, top-notch communication is key.
K – BOMBS AWAY
The bomb needs to be controlled but things aren't all that simple. The field of lasers blocking your way needs to be overcome with both a balanced mind, and body.
L – GUN RUN
Shoot the targets to reach the punch, but when you've just completed a lengthy ropes course to get to the end will your hand be a steady enough shot?
M – MOWER MOTORS
No grass in sight, but that doesn't stop the team taking to this lawnmower to navigate the course. There are certainly more things to negotiate than you'd find on your average lawn.
N – THE GREAT DESCENT
The only way is down! That head for heights is essential as you abseil the tallest part of the crag. When you're at the top and the punch is at the bottom, there's no choice but to send yourself over the edge.
P – TUNNEL VISION
The tunnel's plenty big enough for the stream but can you get your whole team through it, especially when also concentrating on the complex challenges involved?