September 2003
Stanage Edge
Peak District

After two fantastic events in the space of just 12 months it was going to be tough to organise a better one, but everyone agreed this far exceeded their expectations.
As well as the regular teams that had taken part in the past, new teams turned up for their first taste of the Apex Challenge from all over the North of England. Surely none of them who arrived early that Saturday morning could have visualised walking over the top of a hill to find a tent with computerised disco dancing challenge to test their skill and coordination.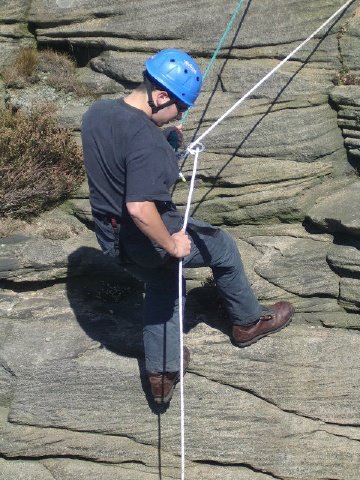 The sun was shining as the teams started to arrive at Stanage Edge. More than thirty teams had already registered for the event meaning we were expecting well over a hundred Scouts to turn up. That made it the biggest event of the ones organised so far. Both the previous events had gone down very well, but we were determined to pull out all the stops and make this one even better!
Teams quickly registered and were given the usual event briefing. Breaking with tradition, there were even some questions from the floor. Matt had been taking bets the night before on what he should deliberately leave out so it could be picked up by someone in the audience. (Note for next time – think up the most obscure question you can and it'll make him very happy! Though he was quite taken aback by the question about why teams couldn't wear jeans so well done for that one!)
Soon teams were off around Stanage in search of the nine activity bases. The fun of the Apex Challenge is, you know where bases are, but you're never quite sure what you might find when you get there. You can have an educated guess; if it's a rocky cliff then the chances are you might be abseiling or climbing, but then we might just be trying to trick you…!
Certainly no teams imagined they would find a tent in the middle of one of the fields with a televised disco dancing machine inside.
Below's a breakdown of all the main activity bases that were on offer…
A – The Grovel
Squeeze over, under and between rocks and boulders to reach the hidden control point.
B – Dual Ascent
Two team members scale a rocky crag simultaneously to reach the control.
C – Up And Over
Using whatever sticks you are given, construct a wooden ladder to reach the punch swinging high above you.
D – Get Down
The team abseils over a craggy edge to reach the control point at the bottom.
E – Quarry Quandary
Use your skill and ingenuity to guide a marble around wooden course. You'll need a steady hand and a patient mind.
F – Righting The Rung
The punch is high above you and all you've got to reach it is a load of rope. Maybe a ladder's the best idea?!
G – Disco Fever
Put your best feet forward and take the disco dancing challenge – in the middle of a field. Fancy footwork's a must!
H – Fast Lane
Carefully navigate a sit-on lawn-mower round an obstacle course. It's harder than it looks!
Here are just a handful of the comments we got from teams taking part in the event:
"It were good. It were well good." (Wonk Toad)
"I've been to all three events now and this was even better than the others!" (Norton Nemesis)
"Thanks for a great day. Overall it was really good despite what sounds like a hectic day for the team organising." (Warley Warriors)

Many thanks to everyone who sent their own reports on the Autumn 2003 event in to us. They were all read by an independent writer who made comments on them all and chose our eventual winner.
Congratulations to Fiona Thompson from the Network team 3 Guyz And A Gal whose report won her a Pod rucksack, MagLite torch, penknife and a bag of glowsticks!