September 2002
Burbage Valley
Peak District

The first ever Apex Challenge event saw well over 20 teams compete in the Burbage Valley just outside Sheffield for the honour of being the first to win this new and exciting competition.
The event set out to completely break the mould of all events that had gone before and become one that features on as many Scout unit calendars as possible. It was open to Explorer Scouts throughout West and South Yorkshire.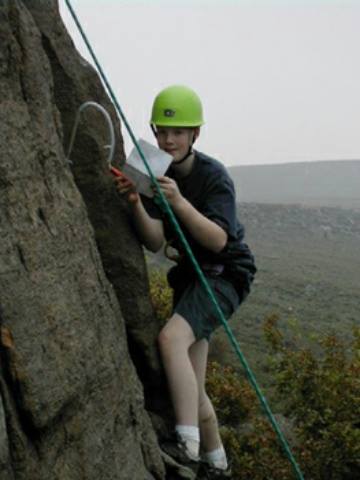 More than a hundred explorer scouts from across South Yorkshire and beyond took part in the first ever Apex Challenge in September 2002.
Teams battled it out throughout the day in teams of four with the winners taking home more than ?500 worth of prizes. Activities ranged from abseiling to weaselling, mountain biking to cannon firing, and rock climbing to sheep herding! Teams had to strategically plan their route through the area to collect as many Apex points as they could.
The Apex Challenge was all about making scout events more up-to-date and appealing. With the high-tech scoring systems and presentations used at the event, this seems to have worked. It was also the plan to make sure this was done in full view of the public. The association's new image was clearly visible at all our sites, and we had mentions in newspapers, magazines and on the radio. It was also an event done in the most cost-effective way meaning no letters being sent through the post. Everything was done by email and through the website.
Thanks to everyone who took part and the 30-strong team who helped stage such a memorable event.
Here are just a handful of the comments we got from teams taking part in the very first Apex Challenge…
"The event was really well organised. We really enjoyed ourselves (we've got the bruises to prove it!)" Fighting Force.
"Have more things like this. it's been fantastic" Ay-Up Munkeys.
"The bases were great. Why not do it over 24 hours next year?" I Can See The Pub From Here.
"We congratulate you on the best run event we have had the pleasure of attending in many a long year." Keighley Explorers.
"Many thanks for organising the event – our scouts had a great time!!!" Neil Baldwin, Wilsden Scouts.
"Everything was excellent and our day couldn't have been better!" Norton Nemesis.